OFF THE WALL
Okay, I've been good--well, relatively good--lately, writing versus animating everything. But I thought I would share this one, the most recent. No(h) Japanese prints were harmed in the making of this film, PRISONERS OF A BROOKLYN BATH(ROOM).
COMING UN-INGED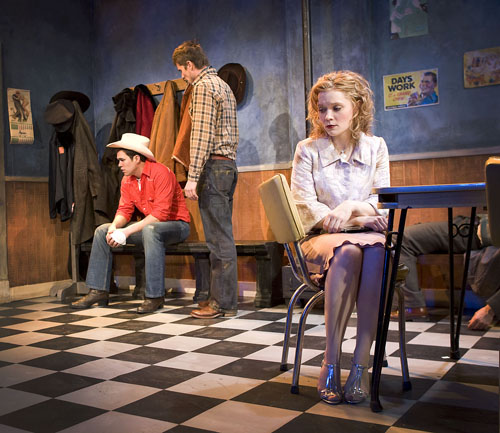 I don't care who or what is in vogue or popular. I've always loved William Inge because he deals with what I feel is a natural theatrical topic, as well as a difficult subject to explore--human longing. While Arthur Miller examines our moral sense and its collisions with justice, and Williams examines our survival in a brutal world, and Albee our, well, our defense mechanisms in a hostile society, Inge (who at one time was mentioned with equal reverence) was the prosaic poet of our dreams, desires and disappointments. In plays like PICNIC and COME BACK, LITTLE SHEBA, his characters want to follow their hearts but are perhaps too frightened of their own feelings to act upon their passions--rather like the majority of us. If current audiences are too "hip" to find such ordinary frustrations and inaction off-putting, I would counter that perhaps Inge's emotionalism cuts embarrassingly close to the bone. His work straddles a fine line of comedy and pathos, but is rarely slick, sardonic or biting--which is what many more audiences seem to trust today. (Tracy Letts seems to combine both successfully in AUGUST: OSAGE COUNTY.) But to really find what motivates us or what holds us back, those small private fears that loom large in our own inner lives, Inge achieves achingly lovely and painful theatrical moments. In some aspects, he is our American Chekhov. And like Chekhov, he is hard to do well.
That said, you may wish to check out BUS STOP, one of his classics, now being performed by Brooklyn's Gallery Players through March 29th. If not the ultimate production, it nonetheless is a loving exploration of ordinary folks, road travellers stuck at a diner until a blizzard lets up and they can move on to their ultimate destination. (Like Chekhov, you have arrivals and departures and the folks that stay behind as the stuff of all drama.) It is not a searing, dark night of the soul--rather, it is regular people trying their damnedest to get through a long and somewhat awkward night together. The piece is probably best known as the film vehicle for Marilyn Monroe in the 50s, but while that film narrowed the focus to only one of the principal threads (and probably couldn't spend too much time on the alcoholic professor interested in underage girls, given the Eisenhower era), the play has many more layers, subtextures and currents. New York City only gets views of Inge once in a blue moon, given what's popular, so you may wish to take advantage of this opportunity to see some authentic American theater literature done with warmth and affection.
BUS STOP by William Inge, directed by Heather Siobhan Curran, now playing at The Gallery Players, 199 14th Street, Brooklyn, btwn. 4th & 5th Avenue (R train to 9th Street; F train to 4th Avenue), Thursdays-Sundays through March 29th. Tickets $18. Thurs, Fri & Sat Eves at 8 pm, Sat at 2, Sun at 3. www.galleryplayers.com for more information and ticket reservations. (Above: Pictured (l to r): Brad Lewandowski, Shawn Parsons, and Alisha Spielmann in The Gallery Players' production of
Bus Stop
by William Inge. Photo by Bella Muccari.)