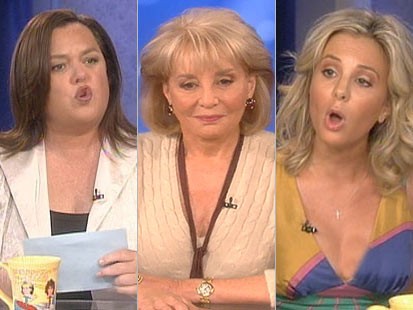 . . . SO ROSIE WENT HOME
When I was growing up, one of my Dad's favorite hoary old jokes was, "Everyone was feeling rosy . . . so Rosie went home."
Rosie O'Donnell is a wild, passionate, emotional person, full of humor and smart observations. She is committed Mom to four kids, committed to her wife, committed to her love of theater, and enormously outspoken. A larger-than-life personality. I often find that my political views are exactly in line with hers.
But Rosie suffers from depression (as do I), and often looks to get her feelings hurt. It is one thing to feel free to put your thoughts out there. But you can't expect people to flip their opinions, even if they LIKE you, and defend your thoughts and actions against their own.
Elisabeth Hasselbeck is pretty, charming, smart, straight-as-they-come, and also outspoken--and as conservative as Rosie is liberal. They claim (or claimed) to love each other on THE VIEW and to respect each other's right to disagree. At times, neither of them listen very carefully to what the other is saying, so eager are they to get their points of view out there. For those who love to argue and debate, the hammer home approach is popular because, frankly, it's fun and aggressive. But you will note that my all-time favorite conservative--and one of the world's classiest intellectuals--was William F. Buckley, who never had to shout or hammer to make his point. He'd simply put it out there for you to agree or disagree.
Rosie got upset when Fox News, which Elisabeth loves, misappropriated Rosie's words, saying that Rosie call our troops "terrorists," which Rosie denies. She feels our government's actions create terror in other countries, which I agree with, but knows that the troops are following the orders of their leaders and risking their lives to defend our rights even under dubious circumstances. Again, I agree--and find spurious those who take opposing views to the war as disloyalty to the troops, which is a cheap and disingenuous argument used to enrage emotions and deflate opposition.
But Rosie tried to trap Elisabeth into saying that Fox News was inappropriate and conservative and further tried to box her into a position where she would have to deny her own comments in support of Fox News in order to support Rosie--it had to be one way or the other. Elisabeth said to her that she (Rosie) was a grown woman who could defend her own viewpoints. Rose called her a coward. And then Rosie asked to be released from the remaining three weeks of her contract from THE VIEW and ABC obliged.
I'm not playing with you anymore. You hurt me.
C'mon, Rosie. If you and Elisabeth can't find ways to play nicely together--and you supposedly like each other--then what hope is there for us to solve wars and major world conflicts. What kind of message are you sending your kids if you walk away pouting when you don't get your point of view validated the way you want it to be? I know what you wanted from Elisabeth and I don't disagree with your desire or your opinion, and I would have liked Elizabeth to have admitted Fox's manipulation (Elisabeth does tend to buy whole packages without looking or questioning the ingredients) but your BEHAVIOR sandbagged her, and your subsequent BEHAVIOR damages your credibility and your cause. A leader takes the licking and keeps on ticking, and the ways you move beyond the petty is even more of an inspiration and example than the actual argument itself. Taking your toys and going away is not the appropriate action--as Sanford Meisner used to say, "An ounce of behavior is worth a pound of words." And if the war can't be discussed or even argued about between friends, then nothing is ever going to be resolved. Is
this
really the message you want to send, the legacy you want to leave on THE VIEW?